2017 Production at Theaterlab!
https://soundcloud.com/shafog/sets/where-sleeping-gods-lie 
P L A Y D A T E
:
A Pizza Party with Wine and Beer and we have a Funny Staged Reading!
WHERE SLEEPING GODS LIE
Written and Directed by Sharon J. Fogarty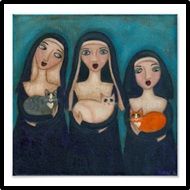 THEATERLAB 
Sunday, March 19th, 2017
357 West 36th Street, 3rd Floor.
Doors open 4:00 PM - food and drinks available for donation.
Reading begins 4:30 PM.
Hang out and party!
Starring:
Karen Christie-Ward*
Lynda DeFuria
Jason Grossman
Renée Torrière
Matthew Van Gessel
Dennis Wit*

With a special appearance by CJ Zishuk.
*Members Actors EquityImage by Ryan Conners
Stage Managed by Gahlia Eden.
Presented as part of Theaterlab's
TLabShares
Program
Description: A musical comedy, three nuns defy poverty and religion during the war in El Salvador to pursue their dreams and save an orphanage.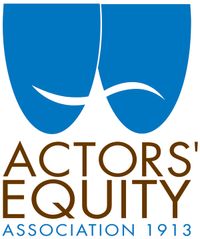 2005 Production at Manhattan Theatre Source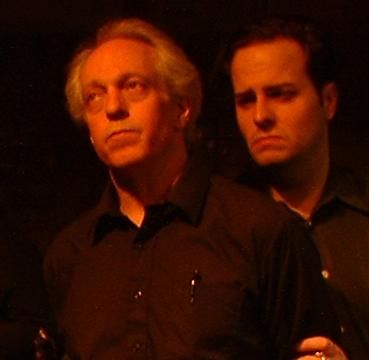 Photos,Steve Deighan and Matthew Porter.   Above, Karen Christie-Ward, Catherine Rogers and Sharon Fogarty by Jason Grossman, 2005.  Also, photo of Jason Grossman as the faux Father Francisco Lopez, photographer unknown.


Where Sleeping Gods Lie features three nuns secretly seeking love, fame and fortune.  Based on a true story, this tale takes place in rural Central America during the time of El Niño and the civil war in El Salvador . Sisters Greta, Marlena and Marilyn struggle to sustain an orphanage without food, water and funding due to a U.S. policy prohibiting charitable financial support during times of war. Miraculously, Sister Marilyn, a comically challenged nun, wins a playwriting contest and the nuns are suddenly faced with an even more dangerous mission, to free political prisoners. In their direst situations, what appears to be a complete lack of God pushes them to discover alternatives to their altruistic and celibate lifestyles. Out of desperation for hope, sustenance and physical love, the nuns welcome a fraudulent priest into their convent.

NYTheatre.com Review, Martin Denton • March 16, 2005
"Meet Greta, Marilyn, and Marlena. No, they're not a sister act from The Lawrence Welk Show. They're the Sisters of La Casa De Los Almas Perdidos (The House of Lost Souls). Yes, they're nuns: just not the kind you've ever come across in a musical comedy. 

This is NOT The Sound of Music. 

Sister Greta is a shopaholic. Sister Marlena is a little bit man-crazy. And Sister Marilyn writes plays, including one that has just won a $5,000 prize. And boy, can they use the money! It's 1992, somewhere in El Salvador. A revolution is raging and a terrible drought has dried up the rivers and reservoirs. Yet the sisters at Almas Perdidos have not given up hope, and their faith is rewarded by that much-needed check and, almost simultaneously, the arrival of Father John Connolly. Both give the order the shot in the arm they've been waiting for.

MARLENA: He has enabled us to organize here at the orphanage in unimaginable ways [says Sister Marlena about Father Connelly]. For instance, we no longer have to force upon the children our Catholic laws. We let them keep their pagan saints and statues, talismen even. We don't even force them to speak English. John insists we try to speak Spanish to them. And he's been so helpful with our musical. If only he weren't a priest.
He's not; he is in fact an American entertainer/revolutionary named Zeke, and he's soon joined at Almas Perdidos by his old friend Jake, who he introduces to the nuns as Father Francisco Lopez. Before the show is over, these five will write a musical comedy and free dozens of counter-revolutionaries from a Salvador prison. Lovers will unite, confessions will be heard, and Sister Marilyn will hear voices and wear a blue lame mini skirt. 

Welcome to the world of Where Sleeping Gods Lie..., the mirthful and mischievously subversive new musical by Sharon Fogarty. Fogarty, one of downtown theatre's most inventive and, I fear, underappreciated geniuses, pokes gentle but very serious fun at organized religion and religious dogma, American interference abroad, and musical comedy in this pixilated and unabashedly modest little show. When the nuns find out that Sister Marilyn has won the playwriting contest, they sing: 

MARLENA: We'll buy cream colored ponies
For the children to ride
MARILYN: Crisp apple strudel
So they'll feel something inside
GRETA: And we'll cook the wild goose with the moon on her wings
And then we'll sing our favorite thing is… ALL: Everything. We are in need of everything! 

When things take a turn for the worse, later on in the show, Father Lopez (who, you will recall, is not actually a priest—not even Catholic, he doesn't think) leads the sisters in a prayer:
LOPEZ: Dear God. How could you do such a horrible thing to a plane full of people? What the hell is the matter with you? Do you think it's funny? To send a plane full of people to a starving country, only coming here to help us out, maybe even release some innocent prisoners and then you just dash them from the sky like so many bugs under a magnifying glass? What the fuck is your problem? Amen. 

This is NOT Nunsense. 

Zany, naughty, sweet and deliberately (slightly) slapdash, Where Sleeping Gods Lie... is performed with vigor and warmth by a cast of six, all of whom are regular Fogarty collaborators. Karen Christie Ward, Catherine Rogers, and Fogarty herself are delightful as Marilyn, Greta, and Marlena, respectively; Fogarty also gives herself a delicious cameo as a villager named Senora Discontenta con Todos whose musical confession to Father Connolly is one of the show's comic highlights. Matthew Porter plays a variety of supporting roles very humorously, most notably a prison warden who is also the improbably smooth Master of Ceremonies of a touring prison entertainment (his musical number, a hilariously overripe attack on the American propensity for world domination, is sort of awesomely politically incorrect at the moment). Jason Grossman is terrific as Father Lopez, making the most of a couple of opportunities to steal the show for a few moments, one when he teaches the nuns to dance (in the improbably titled "Cheeks Together..."), and the other when he improvises jazz riffs around an "Alleluia." Steve Deighan is Father Connolly, believably embodying a transformation from disorientated opportunism to empowered conviction as his character takes the strange and wonderful journey depicted here.
Irreverence has seldom been this devout; reverence has seldom been this much fun. I commend When Sleeping Gods Lie... to you heartily: this is off-off-Broadway doing what it does best—taking audiences to places they probably never dreamed of going, with healthy dollops of entertainment and enlightenment along the way. "