Review: Late Bloomer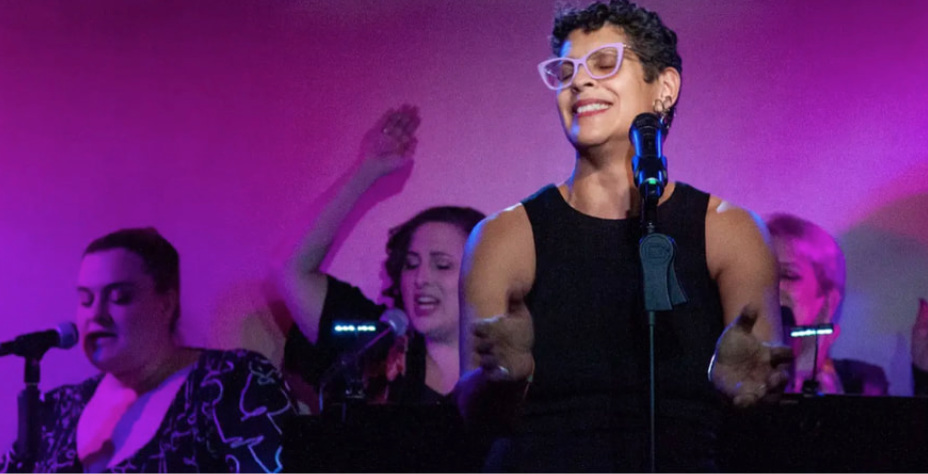 Performed by Alex de Suze
Don't Tell Mama, Sept. 28th, 2022
Directed by James Beaman
Musical Director: Tracy Stark
Bass: Tom Hubbard
Drums: Mary Rodriguez
Backing Vocals: Sierra Rein, Julie Reyburn, Goldie Dver
Special Guest: Richard Binder
Alex's band awaits, peering alertly towards the entrance as if to play a challenging game of ping pong.  An a cappella entry, "Oh! I wish I was a punk rocker with flowers in my hair…" a song by Sandi Thom, sends the message, 'whoa… she can sing!' with the good news of 'this is gonna be fun!'.  Thom's song could be Alex's anthem as the tale unfolds; landing on earth with a unique voice that cannot be pigeon-holed.  The musicians return each of Alex's pings with a resonant pong as her versatility sails effortlessly from Broadway to The Met with focused yet playful accuracy.
Precisely tuned and energetic back up vocalists with a spirited rhythm section weave perfectly under the clever musical direction of pianist Tracy Stark.  Director James Beaman guides the program's journey from humorous to deep.  Mama Will Provide, from 'Once on this Island' by Ahrens and Flaherty, keeps the energy up, then is followed by a touching rendition of Children Will Listen from Sondheim and Lapine's 'Into The Woods'.
Singers have been known to dread He Touched Me, from 'Drat! The Cat!' by Schafer and Levin, due to a potential melodramatic interpretation, too syrupy to perform.  However, Alex's endearing story of a childhood sweetheart prepares us for over-the-top adolescent emotions making the tune hilarious and almost too relatable.
The evening's message is inspiring, reminding us that we never stop evolving, especially artistically.  Alex's personality is warm and engaging.  Her elasticity extends further as she soulfully conquers Aretha Franklin's Dr. Feelgood.  Highlights include Super Softly, a mashup of The Carpenters' Superstar and Charles Fox's Killing Me Softly with His Song, conceived by James Beaman (with a cool arrangement by Tracy Stark) and the dreamy sad, Moon and Planet by Rachel J. Peters.
De Suze is both a modest and generous performer, spectacular to hear and comfortable to watch.  She never strains since there's nothing to prove to us or herself.  Her exceptional skills are clearly evident.
Sharon Fogarty writes musicals and is producing artistic director of https://www.makinglighttheatre.com/.