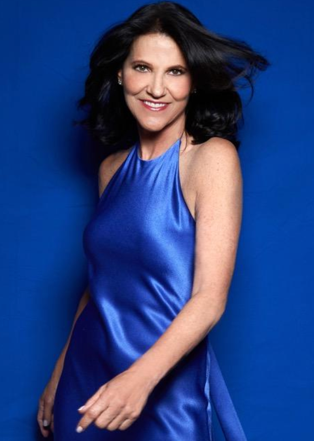 Review: Yesterdays 
Performer: Susan Mack 
Venue: Birdland, June 1st, 2023
Musical Director/Pianist: Tedd Firth
Bassist: David Finck
Percussion: Eric Halvorson
Sax & vocals: Danny Bacher
Directed by Lina Koutrakos
Arrangements by Tedd Firth, Steve Feifke, Nancy Marano, Ron Drotos
Please keep in mind that reviews are subjective!
There is something mysterious about Ms. Mack.  Appearance-wise, she is stunning, magnetic; imagine Snow White suddenly free of dwarves, ready to explode onstage and explore territory on a map she's been keeping in her back pocket for decades.  Like the fairy tale, her voice attracts plenty of playful bluebirds but possibly a few bats, definitely an owl and maybe a pterodactyl. 
The complexity of the arrangements is impressive.  Steve Feifke's rendition of 'All of You' bumps keys and rhythms which could throw the nimblest singers.  With supernatural ears Mack navigates the terrain like a graceful lynx.  Early in the program, she warns that a segment contains lyrics about women written by men almost eighty years ago.  Over pianist/musical director Tedd Firth's swinging and tight arrangements, the songs sail smoothly along with just the right amount of sting.
'Love for Sale' 

(Cole Porter)

Let the poets pipe of love in their childish way

I know every type of love better far than they

If you want the thrill of love, she's been through the mill of love

Old love, new love, every love, but true

Love for sale… 

'Black Coffee' 

(Sonny Burke/ Paul Francis Webster)

Now a man is born to go a lovin'

A woman's born to weep and fret

To stay at home and tend her oven

And drown her past regrets

In coffee and cigarettes.
Gratefully, this recognition was soothed with 'I'm a Woman' (Jerry Leiber/Mike Stoller) which rang like an anthem.
A fun segment paid tribute to the artist's family: her daughter's charming Betty Boop obsession, 'I'm Old Fashioned' (Kern/Mercer) with a cool arrangement by Nancy Marano; her son's childhood curiosity , 'Dat Dere' (Bobby Timmons/Oscar Brown, Jr.) craftily arranged by Ron Drotos; and a cheer up song Mack was certain her mom had written long ago, 'Pick Yourself Up (Jerome Kern/Dorothy Fields) with another bouncy arrangement by Feifke.  On this tune it was a pleasant surprise to hear the coveted saxophonist Danny Bacher take a break from his awesome solos and dexterously trade vocal scats with Mack.
This was my first time seeing this two-time MAC nominee gem whose talented band sports an overall polished performance.  At times I closed my eyes to hear her soul without the sequins.  I was partial to the ballads when Mack allows herself to set the mood and feel the song, making her astonishing technique secondary.  'Yesterdays' (Jerome Kern/Otto Harbach), 'In the Wee Small Hours of the Morning' (David Mann/Bob Hilliard) and 'Everything Must Change' (Benard Ighner) were dear and intimate with a welcome tenderness.   
In the lounge afterwards a listener asked her companion "Where has she been my whole life?".  I eavesdropped but the reply was only a shrug.  The likely answer is that life happens.  I was glad Snow White kept the map in her pocket until the path was allowable.  Maybe she's still finding her sea legs and her performance persona.  She's such a polite performer that I found myself wondering if she was too obedient to many telling her what to do.   But her gift is extraordinary and she's a living example of someone who should be the boss.
Sharon Fogarty writes musicals and is producing artistic director of https://www.makinglighttheatre.com/.